Eggplant Parmigiana | Eggplant Parmigiana
September 28, 2023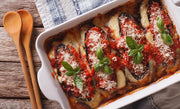 Eggplant Parmigiana | Eggplant Parmigiana
For a taste of real Italian flavour try this tasty, cheesy Parmigiana.
3 Long eggplants, washed and sliced lengthways
250 ml sunflower oil
350 g mozzarella, drained and sliced
200 g Parmigiano Regiano, grated
\u00bd cup fresh basil leaves
Sea salt, cracked pepper
60 ml extra virgin olive oil
2 garlic cloves, thinly sliced
400 g vine ripened tomatoes, peeled and deseeded (or use canned tomatoes)
Method
To prepare the tomato sauce, heat the olive oil in a pan, add garlic and fry until soft.
Add the tomatoes and stir gently. Cover and simmer for 20 minutes until mixture thickens.
Season with salt and pepper, the remove from the heat.
To prepare the eggplants, sprinkle the sliced eggplant with salt and lay in a colander, and allow to drain for an hour.
Rinse eggplant under cold water, and us paper towels to pat dry. Heat the oil in a frying pan, add eggplant slices and quickly fry until a golden brown colour.
To remove excess oil drain on paper towels.
Grease a shallow oven dish with olive oil and place some of the tomato sauce in the dish, then on top of that put a layer of eggplant slices.
Cover with a layer of mozzarella cheese, then a layer of tomato sauce, followed by a sprinkling of Parmigiano Reggiano and a few basil leaves.
Continue building up layers until you\u2019 ve used up all the ingredients.
Bake in a preheated oven at 180\u00ba for 40 minutes, remove from oven and cool for 5 minutes, then serve.