Rosé Negroni Spritz Wine Cocktail
September 28, 2023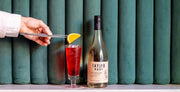 A drink that champions all Aussie local ingredients. This elegant, aperitif drink is a take on a classic Negroni, spritzed for a bit of fun!
60ml Taylor Made Pinot Noir Rosé
20ml Gin (we recommend Ester Dry Gin from Sydney)
10ml Rhubarb Liqueur (we recommend Rhubi Mistelle from Victoria)
10ml Raspberry Liqueur (we recommend Distillery Botanica Raspberry Liqueur from Central Coast, NSW)
5ml Rosewater or Rose Geranium Syrup
Soda Water
Orange Slice or Peel for garnish
Method
Measure and pour all ingredients into your mixing vessel.
Stir the drink for around 30 seconds until it\u2019s icy cold.
Strain it into your frozen glass and pour over fresh ice.
Top up with soda water to add spritz.
Garnish with a slice of orange or orange peel.