Super Greens Soup with Cream and Herbs
September 28, 2023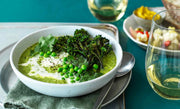 Super Greens Soup with Cream and Herbs
Will Stewart's nourishing soup is created from an abundance of in-season green vegetables, and enjoyed with our Promised Land Pinot Grigio as it is the perfect accompaniment to the fresh herbs and cream.
2tbsp olive oil
2tbsp butter
1 large broccoli, roughly chopped
1 bunch spring onions, roughly chopped
2 cups frozen peas, thawed
4 cloves garlic, finely chopped
2 bunches coriander including stalks, roughly chopped
2 bunches parsley, leaves picked and roughly chopped
1 cup\/large glass Promised Land Pinot Grigio
1L vegetable stock
2 bunches broccolini
thickened cream
baby peas
salt and pepper
Method
Heat the olive oil and butter in a large saucepan pan over medium\u2013high heat. Add the broccoli, spring onions and saut\u00e9 for 2-3 minutes.
Add the garlic and cook, stirring occasionally for 2 minutes. Increase the heat to high, add the pinot grigio and reduce for 2 minutes.
Pour in the vegetable stock, bring to the boil then reduce the heat and simmer for 10 minutes.
Add in the peas, coriander and parsley then remove the pan from the heat and blitz with a stick blender until you reach your desired consistency. Season with salt and pepper.
Over a medium heat, in a frying pan using a little olive oil, cook the broccolini and baby peas for 2-3 minutes.
Divide the soup into bowls and garnish with the pan fried broccolini, fresh baby peas and a drizzle of thickened cream and serve with a glass of the Promised Land Pinot Grigio.
Hints, tips, substitutes and other ideas: When blending the soup, feel free to add in \u00bc, \u00bd cup of the thickened cream and some nuts and seeds toasted in a hot dry pan make a really tasty garnish and crunch.