Thai Fish Cakes | Thai Fish Cakes
September 28, 2023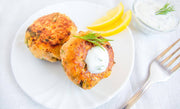 Thai Fish Cakes | Thai Fish Cakes
A traditional Spanish favourite with a long Fish cakes may have originated in Asia but find their gastronomical home with a glass of Clare Valley Riesling. This paella combines chicken, seafood, chorizo sausage, rice and Spanish herbs & spices for a highly satisfying Valencian feast.
600 grams of white fish fillets
2 cloves of garlic
2 egg whites
Half a cup of mint leaves
1 small red chilli
Half a cup of coriander
Olive oil
Method
Blend the all the ingredients except the oil together in a food processor.
Shape the fish cakes in the palm of your until they form patties.
Heat enough olive oil to cover the bottom of your fry pan or wok and heat until it is just on the verge of smoking.
Put in the fish cakes three at a time and fry until golden brown.
Drain on paper towels and serve with Thai chilli sauce, for dipping.