Awarded 'Best Cabernet' at the World's Largest Wine Show
August 17, 2023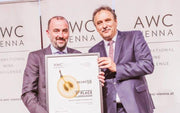 At a wine show known as 'The Oscars of wine', our Jaraman Cabernet Sauvignon 2015 has collected the trophy for 'Best Cabernet'. 

The AWC Vienna International Wine Challenge in Austria is now in its fifteenth year and is officially recognised as the "largest wine competition in the world", AWC Vienna brings together the most influential figures from the international winemaking community to recognise and award brilliant examples of finesse in winemaking. As one of the most challenging global wine competitions, the AWC Vienna judging panel scrutinises more than 12,400 wines from over 1,700 producers in blind tastings over the course of the competition. The strict blind tasting system only permits judges in the panel whom have successfully passed arduous sensory examinations as authorised by European Wine Law.


The trophy was not the only award we received at the show.  We were also recognised as an exceptional producer across several categories, receiving eight gold medals across our portfolio, and awarded three stars, the highest level of ranking available from AWC Vienna.

Of course, this award reflects the dedication and commitment of our team to consistently produce wines of exceptional quality at any price point. We see International wine competitions as an important way for us to benchmark ourselves against producers from around the globe, and we're extremely proud to know that our Cabernets can stand amongst some of the best, not only in Australia, but worldwide.

We're so proud of the continued success on the world stage we've had as a producer of Cabernet Sauvignon wines. It was only recently that we celebrated receiving the supreme award of World's Best Cabernet in France at the Concours International des Cabernets (International Competition of Cabernets) for our iconic wine, The Visionary Cabernet Sauvignon 2014.

These awards are an example of how some of the best Cabernet Sauvignon in the world is grown right here, right now in Australia.  

Cabernet Sauvignon has always been the heart and soul of our business, and this is another exciting result for our family and winemaking team. We're certain Bill Taylor Snr - the man who first had the vision back in 1969 of how great Australian Cabernet Sauvignon could be - would be extremely proud that his determination to pursue this vision has stood the test of time.