How to Match Wines with Chinese Food
August 17, 2023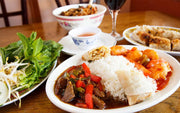 1. Delicate dishes or fried vegetable dishes:
The best wine to pair with a dumplings such as dimsum is Champagne or Sparkling Wine. It works great with steamed as well as deep fried variety, particularly when it is packed with shellfish. Foods like fried or steamed vegetables and fish or some Cantonese varieties go amazingly well with them. Sauvignon Blanc, Chardonnay and Riesling are also a great accompaniment to seafood and chicken dishes.
2. Duck:
Duck is one such chinese dish which tastes delectable with red wines like Pinot Noir, Beaujolais which is identical to Australian Tarrango or the strong Merlot wines like the ones from Bordeaux and Australian Shiraz. For best flavours and intensity, you can also allow your Shiraz to age for a couple of years. Duck also complements Gewürztraminer well as it has the capability to bring out the aroma and flavours of the Chinese meal really well.
3. Sweet sour dishes:
Wines with rich acidity can complement sweet dishes or an off-dry wine to balance the sour flavours. Many people who even have a strong disliking for White Zinfandel will like it as it brings out the flavours and natural elements of such dishes nicely. Wines having amazing fragrance like Pinot Gris and Riesling and Austrian Grüner Veltliner are also amazing to pair with sweet and sour dishes. Even a rosé wine can harmonize well with such dishes and add interesting floral notes to the flavour.
4. Powerful dishes with sticky sauces:
Food items such as the glazed ribs or crabs in the black bean sauce are a great companion to the fruity red wines such as Malbec and Grenache which are not overloaded with tannins. These fruity red wines can get along greatly with hot and spicy chinese cuisines like Szechuan beef. Even a crisp Pinot Noir Rosé can accompany these hotter style dishes well.
Check out our delicious Asian Spare Ribs recipe with some suggested wine pairings.
5. Earthy Foods:
This is a great pairing tip wherein the earthy food items are paired with the earthy wines. When the wine and the foods pair with one another, earthiness can be best drawn out. Earthiness can be found in red wines like Cabernet Sauvignon, Merlot, Pinot Noir and Tempranillo which brings out the elements of earthiness from ingredients like shiitake mushrooms.
6. Savoury Meats:
There are a number of red wines which complement savoury (umami-rich) meat dishes cooked in sauces such as black bean, soy or worcestershire. Some great options include silky reds like a Bordeaux blend, Merlot or Shiraz, an aged Chardonnay or a full-bodied sparkling wine. It's also good to remember older wines with reduced tannin can complement umami flavours better than younger, more tannic wines.

Author Bio:
Ann is the content creator at&nbsp
https://www.findrarewhisky.com/
. She loves blogging, writing, reading, learning, and teaching. She loves to pen down her thoughts on drinks and food. When she is not writing, she loves to travel and explore new places to savour some unique wines and whiskeys. She also loves to try out new recipes to match her favourite wines!