The 2023 Family Flagship Release
August 17, 2023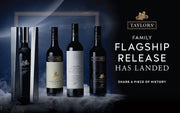 The 2023 Family Flagship Release
The 20th July 1969 marks a significant anniversary for our family owned winery. Not only was it the day that saw Neil Armstrong's first steps on the moon | it was also the day Bill Taylor Snr first set foot on the land that was to become the renowned Taylor family estate in South Australia's beautiful Clare Valley​. To commemorate this momentous date in our 50-year winemaking journey | we are proud to unveil our second annual Family Flagship Release - a collection of new vintage releases of Taylors finest | most exceptional wines. The wines | now available from select fine wine retailers and Taylors' cellar door | showcase the pinnacle of our winemaking craft and fruit selection across the Clare Valley and select South Australian wine regions.

The 2023 Family Flagship Release includes new vintage releases across Taylors' St Andrews and Masterstroke ranges | as well as the highly anticipated 2016 vintages of The Pioneer Shiraz | The Visionary Cabernet Sauvignon and the family's pinnacle release wine - The Legacy.&nbsp

Taylors' Chief Winemaker Adam Eggins says | "The wines we are releasing in 2023 represent a mix of incredibly exciting vintages for our most premium wine releases. I'm beyond thrilled to release this family of icons at our special event in July as it demonstrates just how far our winemaking capabilities have come in the last decade."​

Since 1969 | the Taylor family has built a strong reputation for crafting a range of award-winning wines for all occasions. For over half a century | we've continually refined our expertise | embraced sustainable and cutting-edge innovations in viticulture and winemaking practices | and emboldened our winemaking team to test the boundaries in crafting the finest wines we can. The unveiling of the 2023 Taylors Family Flagship Release marks a significant milestone | commemorating our family's standing not only in the Clare Valley | but right across the Australian wine industry.&nbsp

'We're incredibly proud to celebrate the second annual release of our Family Flagship wines. These wines best represent my grandfather's vision when he established our family winery in the late 1960s. Our philosophy has always been to honour the remarkable fruit produced by our vineyards and the established grower partners we work with. I'm honoured to present this stunning collection of wines on behalf of the Taylor family |" third-generation Winemaker and Managing Director Mitchell Taylor said.&nbsp

This year's edition of the Family Flagship Release comprises ten wines | representing six vintages | all crafted to display Taylors' signature style of concentrated varietal flavour juxtaposed alongside poise and finesse. Fruit from the family's Clare Valley Estate is prominently displayed across a majority of wines in the collection | with fruit from McLaren Vale and Coonawarra featuring across the Masterstroke range.&nbsp
DISCOVER THE 2023 FAMILY FLAGSHIP RELEASE COLLECTION


MASTERSTROKE SHIRAZ 2020
This wine has a mouth-filling lusciousness | densely packed with generous plum and dark cherry fruit flavours alongside subtle floral violet characters | and a smack of vanilla underlying the opulent oak expression.
4 Trophies | 1 Platinum | 2 Great Gold | 3 Double Gold | 25 Gold
94 Points - Catavinum World Wine &ampSpirits Competition 2022
MASTERSTROKE CABERNET SAUVIGNON 2020
Deliciously haunting flavours of blackcurrant | mint and dark chocolate which persist around a finely-tuned tannin structure | leading to a thoroughly enjoyable long and persistent finish.&nbsp
1 Masters | 1 Great Gold | 2 Double Gold | 15 Gold
93 Points - Catavinum World Wine &ampSpirits Competition 2022
MASTERSTROKE CABERNET SHIRAZ 2017
Shiraz delivers rich and plump dark plum to the mid palate whilst blackcurrent | dark chocolate and mint characters from the Cabernet Sauvignon drives the finish. A sublimely complex and multi layered wine.
1 Trophy | 2 Gold
95 Points - International Wine &ampSpirits Competition 2021

ST. ANDREWS RIESLING 2023
Restrained at release with a linear focus to the palate and impeccable purity of fruit flavours. Plenty of fresh lemon/lime juice characters abound | with crisp and refreshing citrus acidity down the mid-palate | all complemented by a persistent and refreshing finish.
1 Gold
ST. ANDREWS CHARDONNAY 2021
A medium-bodied | elegant wine with an enjoyable creamy yet still delicate texture to the mid-palate. Flavours of white peach and nectarine stone fruit are evident alongside toasted cashew nut notes from quality French oak maturation. Whilst the new oak characters hold court | it is perfectly balanced by superb quality fruit characters and subtle minerality. The finish has wonderful persistence and length.
6 Trophies | 3 Double Gold | 19 Gold
ST. ANDREWS SHIRAZ 2020
This is a voluptuous wine with great mid-palate expression and impeccably balanced layers of flavour. Fresh red berry fruits | concentrated dark plum | liquorice and violet are cradled across the palate by mocha and vanilla spice flavours from high-quality oak. The waterbent American oak barrel fermentation results in a wine with beautifully integrated fruit and oakharmonious | elegant flavoursand a long | persistent finish.
1 Trophy | 1 Great Gold | 4 Gold
ST. ANDREWS CABERNET SAUVIGNON 2019
This is a very well-balanced wine | with ripe blackcurrant fruit flavours intermingling harmoniously with oak characters of cedar and subtle tobacco. There is power and strength in the varietal flavours of cassis | and supreme delicacy in the fine-boned structure. The tasting experience is completed with long | fine tannins and a wonderful persistent finish.
3 Trophies | 3 Great/Grand Gold | 7 Double Gold | 26 Gold
"Matured in French oak for 20 months (100% new). On the nose | fig | Christmas cake and even dates work alongside dark chocolate and licorice. 2019 was a drought year | and this has a sweet jammy countenance about it. The savoury tannins are the balancing principle | helping to hold the fruit through the long finish." - 93 Points | Erin Larkin | Wine Companion.
THE PIONEER SHIRAZ 2016
The 2016 vintage in the Clare Valley is lauded as one of the greats. The vines were stress-free heading into winter | conditions were ideal during flowering | and there was no frost – the 'perfect storm' for a truly outstanding vintage | particularly for our Shiraz and Cabernet Sauvignon wines.
The Pioneer 2016 Shiraz &nbspoffers a complex evolution of sweet red plum and cherry fruit characters | interwoven with cinnamon spice | vanilla | and hints of violet | all underscored by creamy | rich chocolate notes. The palate is rich | supple | and beautifully layered | with silky | delicate tannins.
2 Trophies | 1 Platinum | 1 Masters | 5 Great Gold | 4 Double Gold | 17 Gold
95 Points - Melbourne International Wine Competition 2020
THE VISIONARY CABERNET SAUVIGNON 2016
Luscious blackberry and mulberry flavours are counterbalanced by fresh mint characters on both the nose and palate. The tannins are well-defined yet highly integrated | leading to a distinctively long finish. With a poised elegance and depth | this wine will develop exceptionally over the long term.
1 Trophy | 2 Masters | 2 Great Gold | 4 Double Gold | 16 Gold
"The best parcels of fruit are allocated to The Visionary | fermented in headless barrels with 2 months extended skin contact and aged 2 years in new and used French oak. Plenty of new wood flavour here. Cedary | tobacco | dusty | offsetting fruit compote flecked with spearmint and baking spices. Good flavours | with a savoury overlay alongside fine tannins and refreshing acidity. It comes together well for now and years more." - 95 Points - Jane Faulkner | Wine Companion
THE LEGACY CABERNET SAUVIGNON 2016
The collection includes the third vintage release of The Legacy | the Old-world-inspired Cabernet blend crafted to celebrate our family's 50th anniversary in 2019. The Legacy exemplifies Chief Winemaker Adam Eggins' ability to blend exceptional parcels of fruit to craft a complete wine of power and elegance.
"The Legacy represents an enduring family journey that honours our history and sets a benchmark for generations to come |" Taylor said.&nbsp
The heart and soul of The Legacy's barrel program was maturation in Jean Louis Vicard oak - a selection by the Cooperage of their finest 36-month-old | fine-grained and lightly toasted barrels. The wine enjoyed 36 months' maturation in a cool | temperature-controlled cellar | allowing the oak to impart powerful savoury characters and textural richness.
The Legacy 2016 displays classic Cabernet Sauvignon varietal structure | with a generous | mouth-filling front palate | and long | elegant tannins to finish. The Merlot adds suppleness and roundness to the mid-palate | while the Cabernet Franc adds varietal intensity of mint | and brooding | dark berry fruit notes. Black cherry and cassis are found throughout | alongside nuances of cedar and tobacco. The long | persistent finish tantalises the taste buds well after the wine is gone.