Raise a Glass to Sparkling Wines
August 17, 2023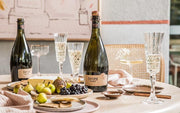 Raise a Glass to Sparkling Wines: The Perfect Celebratory Drink&nbsp
World Prosecco Day falls on August 13 and why not celebrate with a glass or two of this fun and fizzy&nbspAffordable and easy-drinking | Prosecco has soared in popularity in recent years as consumers have sought more affordable alternatives to champagne. Prosecco has also benefited enormously from the ongoing popularity of the Aperol Spritz | a delightful mix of Prosecco | Aperol and soda water | over ice.&nbsp
Light | bubbly and best served chilled | Prosecco is a favourite at celebrations | delicious on it's own | served as a pre-dinner aperitif or even as a base for a cocktail. If you enjoy crafting cocktails for your friends | impress them with this Italian inspired wine cocktail - the Passionfruit Prosecco Sgroppino.
Firstly | the Prosecco name - what's the deal?&nbsp
Prosecco is a sparkling wine principally made from the Glera grape variety in north-east Italy | using a process called the tank method. More on that later.
The principal variety now known as Glera used to be known as Prosecco. The name was changed in 2009 | so that the term 'Prosecco' could be used to designate defined areas that would be entitled to use the name | and to prevent other regions and countries from using it. Exactly the same way in which the name 'champagne' can only be used for sparkling wines made in a particular method | from grapes grown in the Champagne region of France. This legal designation enables control over quality and quantity | and keeps prices fairly consistent.
The Italian DOCG Prosecco Consortium was successful in getting this legal decree enacted | thus preventing other countries and regions from using the name 'Prosecco' for sparkling Glera wine | made outside of the designated geographical region in north-east Italy.
There is however an ongoing challenge to this restriction | and that is here in Australia | where we are still able to label our home-grown versions as Prosecco.&nbsp
Why? Well | the aforementioned Consortium tried to impose the same restrictions on Australia as it had elsewhere in the world - but it was successfully opposed by the Winemakers' Federation of Australia (WFA) in 2013 on the grounds that in Australia | Prosecco is still deemed a grape variety. This is because the grape variety Prosecco was pioneered in Victoria's King Valley way back in 1999 | and the decree made by the Italian Prosecco Consortium under European law only occurred in 2009 | so it was already well in use in Australia. Good for us | not so good for the Italians. Although this will probably be an ongoing debate!
How is Prosecco produced?
The main difference between Prosecco and champagne (or traditional method sparkling wine like our own Taylors Estate Brut Cuvée) is where the secondary fermentation - the process that puts the sparkle into the wine - occurs. With Prosecco | it takes place in large steel tankswhereas with champagne | the secondary fermentation occurs in individual bottles.&nbsp
There are several names for the tank-based secondary fermentation process: the Charmat method | metodo Italiano | the Marinotti method | the tank method | or cuve close ("sealed tank" from the French cuvée | or vat). It is significantly cheaper | faster and less labor intensive than the traditional method by which champagne is made.
Base wine is added to these specialised tanks - built to withstand the pressure of holding the dissolved carbon dioxide -&nbspthen a second fermentation is triggered by adding yeast and sugar. Once the desired level of bubbliness has been reached | the wine is cooled to stop the fermentation process and the remaining yeast is filtered out. This method retains Prosecco's lovely primary fruit aromas and fresh flavours.
How to understand the sweetness of your Prosecco:
Prosecco is primarily made in a dry style whilst displaying vibrant fruity flavours. Fresh fruit characteristics of lemon | green apple | green pear | honeydew melon and white blossom often trick us into thinking the wine is sweeter than it technically is.&nbsp
Next time you are looking to buy a bottle of Prosecco | look out for the following terms on the label | to help you understand the level of sweetness:
BRUT is 0-12 g/L RS (residual sugar) - up to a half gram of sugar per glass
EXTRA DRY is 12-17 g/L RS - Just over a half gram of sugar per glass
DRY is 17-32 g/L RS - Up to 1 gram of sugar per glass
It may not seem like it makes a whole lot of sense but yes | Dry is significantly sweeter than Brut.&nbspThe majority of Prosecco wines (over 60%) are Extra Dry. So if you like a little more sweetness | aim for Dry. And if you prefer your Prosecco in a drier style | look for any of the Brut styles.
What to match with Prosecco and how it should be served:
Prosecco is a light | refreshing | easy-drinking wine that can be enjoyed at various occasions. Often enjoyed on its own at parties and social occasions | it can also pair nicely with food where the touch of residual sugar sweetness in most styles make it a great match with charcuterie | fruit-driven appetizers like prosciutto-wrapped melon | and lots of Asian cuisines.&nbsp
Prosecco should ideally be served chilled at 3-7°C | opened by carefully wiggling the bottle to gently release the cork and served in a sparkling tulip shaped wine glass. A tulip glass is the best option as it is tall and slender | which helps preserve the bubbles for longer | while the larger bulb at the top collects the wine's floral aromas.&nbsp
Try our Taylor Made Prosecco - a refreshing | dry style Prosecco with fresh and lively citrus | green apple and pear fruit characters along with subtle floral notes and a refreshing sparkly finish.&nbsp
Prosecco vs traditional Sparkling wine or Champagne - what's the difference?
The main difference between Prosecco and Champagne or our own Taylors Estate Brut Cuvée is the vessel used for the secondary fermentation - that's the process that puts the all important sparkle into the wine.&nbspIn the case of both Champagne and our Taylors Estate Brut Cuvée | the vessel used is a bottle whilst with Prosecco | it is a tank.
In addition | Champagne can be a blend or single varietal wine made from Chardonnay | Pinot Noir and Pinot Meunier.&nbspOur Taylors Estate Sparkling Brut Cuvée is crafted from Pinot Noir and Chardonnay.&nbspProsecco | on the other hand | is made from the Prosecco grape variety - also known as Glera in some parts of the world.
The difference in both production methods and grape varieties result in differing flavour profiles for each of the wines.