Summer of Sustainable Seafood: Prawns
August 17, 2023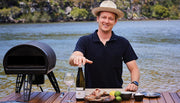 oyster shucking tips | perfectly paired with Taylors Estate Sparkling | and check back later as we unveil two more seafood guides from Guy.
According to the Marine Stewardship Council | more than half of wild-caught prawns in Australia are now MSC certified sustainable - excellent! In most cases | prawns are caught for us to enjoy in critical habitat areas for other marine species | so it's vital they not be damaged to preserve these beautiful spaces.
Taylors Estate Riesling. Taylors | being from the Clare Valley | knows how to craft a world-class Riesling | and this wine's bright | summery acidity is so well balanced to the rich | juicy flavours of our slightly spiced BBQ'd prawn.
Like a prawn served slightly hot from the grill | we recommend taking your Riesling out of the fridge about 10 minutes before serving. According to the Taylors winemaking team | the Estate Riesling is best served between 8°-10°C | so slightly warmer than fridge temperature. Once the prawns hit the grill | take your riesling out of the fridge to warm slightly. Once the prawns are off the grill and slightly cool | you should be ready to pour and enjoy both mouth-watering summer treats.
Alternatively | check out the Taylors Temperature Sensor on the back label and swipe the sensor to know when your wine is just right to pour.