Taylor Made For Gifting: A Taylor-ed Approach to Wrapping Your Wine Gifts
August 17, 2023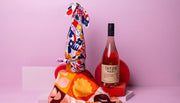 Then tie these corners together on the other side of the bottle in either a double knot or a bow.
Taylors Wines online cellar door.
You can purchase a single bottle of any of our varieties within the Taylor Made collection plus one of these scarves to gift wrap your bottle or try 6 of our most popular varieties with a Taylor Made Sampler Pack and receive a scarf as a free gift with purchase.
Happy gifting!&nbsp