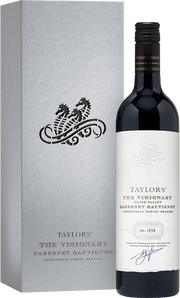 This pinnacle release Cabernet Sauvignon is crafted from the very finest fruit selection and is entirely estate grown and bottled on the Taylor family estate in the Clare Valley, South Australia.
grape varieties
Cabernet Sauvignon
blend or single variety
Single Variety
colour
A deep, dark red framed by crimson at the rim.
nose
The wine is attractively scented with wild berry and bramble hints backgrounded by light chocolate and mint notes with a subtle smoky cigar air from extended premium oak maturation.
palate
The wine displays luscious blackberry and mulberry flavours counterbalanced by fresh minty characters. There is a well-defined and highly integrated tannin and oak firmness to the distinctively long finish. This wine has lovely dimensions, and a poised elegance and depth that reflects its carefully selected provenance, vinification and cellaring.
oak maturation
A portion of the wine was fermented in headless new French oak barrels and left on skins post-fermentation for 60 days. The wine was matured in a selection of fine-grained French oak barrels: 50% in new oak and the balance in two-year-old barrels, specifically selected for cedar, tobacco and spice characters. After 12 months, a barrel selection assessment was undertaken to identify those parcels deemed as 'exceptional' and these were returned to barrel for a further 12 months' maturation.
vintage conditions
In the Clare Valley, rainfall was below average for the season, but Mother Nature saw fit to dole out just the right amount of water at just the right time for maximum positive impact on the vine's health and importantly, the quality of the fruit produced. In fact, this was just one of the factors at play when it comes to the vintage being lauded as one of the greats. Firstly, the vines were 'stress free' heading into the winter period, creating the potential for a superior crop. Secondly, conditions were ideal during flowering and then lastly, the threat of frost did not eventuate. All these conditions combined to create what called be described as 'the perfect storm' for an excellent vintage.
cellaring notes
Crafted for immediate enjoyment but will cellar over a long term under ideal conditions.
pack size
Single: 750ml bottle, Case: 3 x 750ml bottle