Mother's Day Food and Wine Guide
August 17, 2023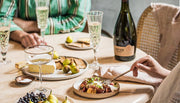 Raise a toast to all the mums this Mother's Day with these delicious food and wine pairing suggestions. Whether you're planning a lavish brunch, a cosy dinner, or a casual picnic, we have the perfect recommendations to make mums day.
Classic food & wine pairings:
The food and wine you select for Mother's Day depends on the way you intend celebrating it. Light party food and a celebratory atmosphere may go better with some fun bubbles, while a cosy, hearty beef dish served by a roaring fire on a cool night would marry well with a full-bodied red. 
Taylors Estate Sparkling or Taylor Made Prosecco is a special touch to making mums day! If the weather is favourable, a picnic is also a lovely way to celebrate with family members.
Creative food & wine pairings:
Check out our recipes for more ideas for pairing food and wine for Mother's Day. And if you happen to be in the Clare Valley on Mother's Day, why not drop in to our Cellar Door - you could even make a mini-break of it. There's plenty to see and do in our little corner of South Australia at this time of year. However you choose to celebrate your mum, have a lovely day!